inSPORTline Crosstrainer inCondi ET600i
Are you looking for a really sturdy machine to increase your condition and exercise your upper and lower limbs for the whole family? Or are you looking for a club or hotel fitness machine on which your customers will enjoy working out? Do you like modern technology and want to make training more attractive? We have a solution for you!
Elliptical Trainer inSPORTline inCondi ET600i has a high stability construction and is spacious - pedal distance of 20 cm and a stride length of 40 cm - so it will also serve tall users as well. The high efficiency of the exercise is ensured by 8 kg flywheel in the rear part of the machine and a silent magnetic braking system, which can make the movement of this flywheel sufficiently resistant thanks to 16 adjustable levels of resistance. And thanks to the really minimal noise, you won't disturb anyone during exercise.
The inSPORTline inCondi ET600i Cross Trainer is easy to move thanks to the transport wheels in the front of the machine, so you can move it more or less everywhere without much effort.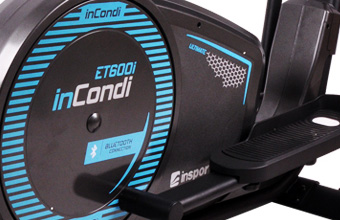 High stability and load capacity
The main advantage is the overall quality of processing. Thanks to the robust body and quality materials, high stability is guaranteed and is associated high load capacity of up to 200 kg. The machine can thus be used in smaller gyms or clubs.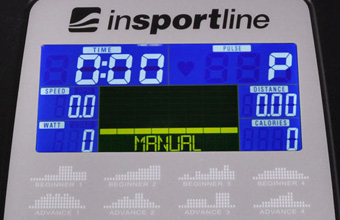 Rich software
As it is an ergometer, the load is controlled electronically via a computer. Eliptical offers a number of preset programs with different resistance modes.
It is also supplemented by special programs, such as the FAT function, which is able to measure the fat in your body (BMI) or HRC programs, which adjusts the load to the optimal heart rate - heart rate measurement then works on the principle of holding heart rate sensors in handles or the included wireless chest strap.
Last but not least, the machine also has a program for an orientation recovery test (Recovery).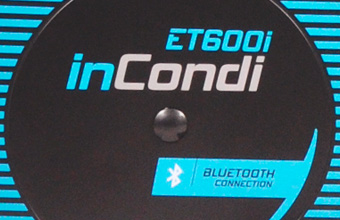 Connecting to a smartphone
Connecting the elliptical trainer with the iC + Training application is one of the main advantages. Through the application you can set programs, save your measured values, share on social networks or check current information while running (heart rate, speed, distance, etc.)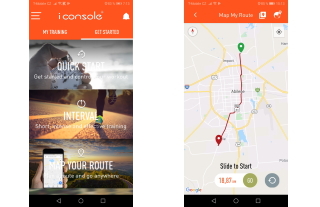 Run anywhere in the world
In the iC + Training application, you can set any route in the world directly on Google Maps. You can run on the streets of Paris, on the beaches of Miami or in the mountains of the Giant Mountains. During training, you can follow real images of the route, as you know from Street View. In addition, the load of the elliptical copies the course of the route, thanks to which even greater reality can be achieved. Experience the world from the comfort of your home. Of course, the application also offers starting, setting and control of machine functions directly from your mobile device.
And since it is intended to use smart devices, the machine has a practical holder for electronic devices, books or newspapers.


Thanks to these features, high versatility and excellent price-performance ratio, the inSPORTline inCondi ET600i is a frequent choice of customers. Get this favorite trainer too!
Key features:
stable construction
BeltDrive belt system for quiet and smooth running
Industrial bearings in all joints
three-piece cranks with enclosed industrial bearings SFK
can be connected to the iC+ Training (Android 5.0+/ iOS10.0+) app via Bluetooth

Quick start
manual settings of target time, distance or burned calories
possibility of creating user profile (photo, name, weight, gender)
set up a real route through Google Maps and Street View and choose
interval exercises
WATT program
possibility of group exercises
intelligent workout scheduler
training history

possibility of connection with additional applications:

Kinomap (Android 4.4+/ iOS9.0+)

preset routes from which the video is played
when selecting the machine type, select Elliptical and select iConsole as the machine brand
the content of the application is charged

MyHomeFit (Android)

quick start
standard programs
heart rate controlled program (HRC)
speed controlled program
speed controlled program (RPM)
power controlled program (WATT)
real routes
other advanced programs

Fit Hi Way (alternate link for Android)
test application compatibility with your mobile device in advance
have WiFi, Bluetooth and GPS enabled and enabled for proper application functionality (tracking)

inSPORTline is not a developer of the mentioned applications and does not accept responsibility for possible errors or incompatibilities of applications (in case of problems we are willing to help)

backlit LCD display
Computer displays: time, speed, distance, pulse, burned calories, RPM, scan
Cardio / HRC program: resistance adjustment to keep the heart rate in optimal zone
WATT program: the machine increases or decreases the resistance so that the user performs the set performance (for example, increases the resistance when reducing the pedaling)
Technical description:
| | |
| --- | --- |
| flywheel weight | 8 kg |
| center revolutions/flywheel ratio | 1:11.4 |
| resistance control | electronic |
| resistance levels | 16 |
| distance between pedals | 20 cm |
| stride length | 40 cm |
| programs (in all) | 18 |
| pre-set programs | 12 |
| user programs | 1 |
| HRC program | yes |
| WATT program | yes |
| recovery test | yes |
| body fat measuring | yes |
| manual program | yes |
| pulse sensor | yes |
| tablet holder | yes |
| bottle holder | no |
| chest belt receiver | yes |
| chest belt included | yes |
| transport wheel | yes |
| levelling system | yes |
| folding construction | no |
| total dimensions | 145 x 64 x 170 cm |
| dimensions in folded state | X |
| max. user height | 200 cm |
| max. user weight | 200 kg |
| weight | 60.8 kg |
| braking system | magnetic |
| power source | net adapter 9V, 1.3A for AC 100V – 240V |
| category | SB (according to EN957) |
| use | club, commercial, home |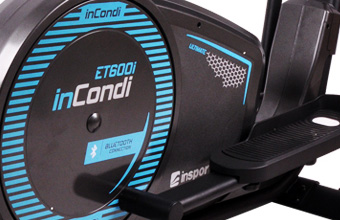 High stability and weight limit
The main advantage is its sturdy structure made of high quality materials, providing high stability and weight limit up to 200kg. As a result, the machine can be used in smaller gyms as well as clubs.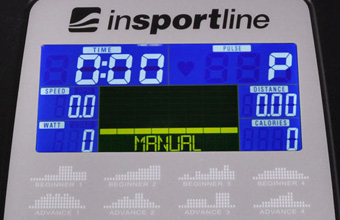 Variety of programs
The elliptical trainer offers a number of preset programs with different resistance modes. It also features special programs and functions such as FAT (measures your body fat – BMI) or HRC which adjusts resistance to the optimal heart rate. Then there are the user modes (12) for quick setting.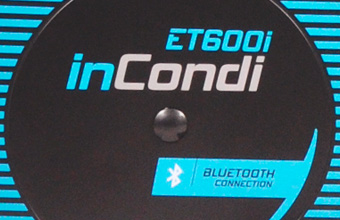 Tablet connection
The iC+ Training is the main advantage. This app allows you to adjust exercise programs, save exercise data and share them on social networks or to check your current performance data (heart rate, speed, distance, etc.).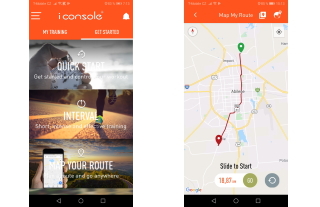 Train anywhere around the world
With iC + Training, you can set up any route in the world, right on Google Maps. You can ride the streets of Paris, beaches of Miami or mountains of the Giant Mountains. As you know from Street View, you can watch real-time imagery of your route during your workout. Moreover, the elliptical load follows the course of the road, which makes it even more realistic. Discover the world from the comfort of your home.